+

Series
The List
Hear about upcoming shows. We aim not to send more than one update per week.
About
Connect
Rotationships
Augustine Kofie
Opening March 12th 7-10pm
Appointments through April 9th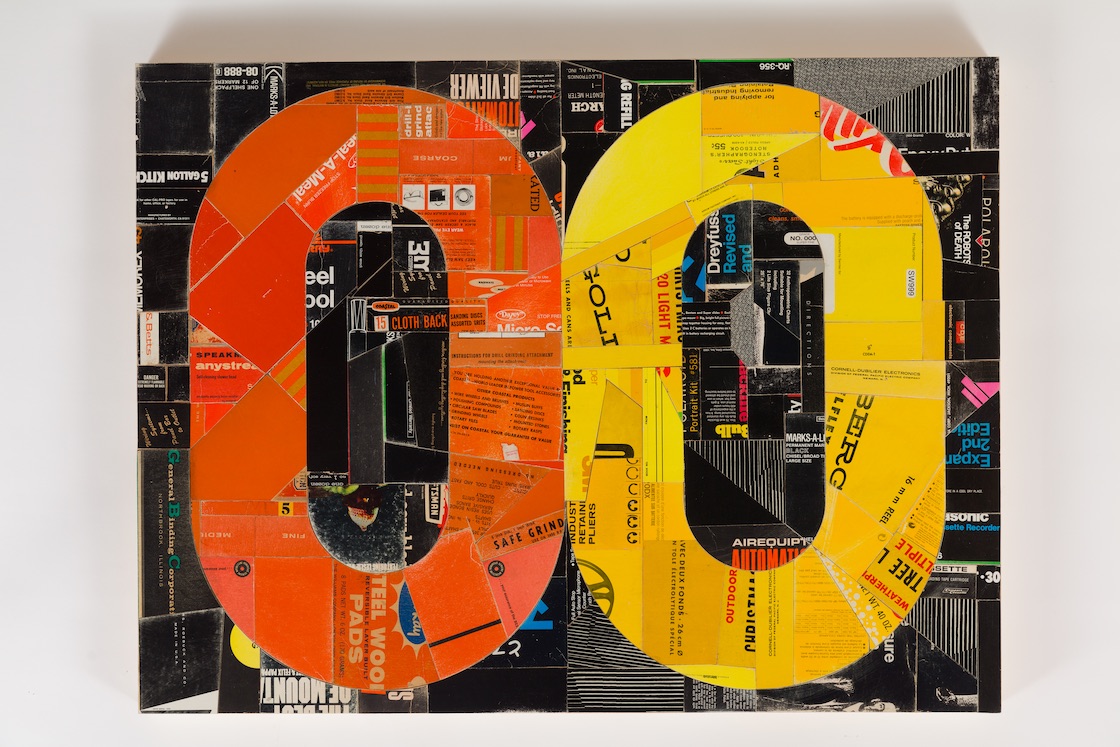 ROTATIONSHIPS is Augustine Kofie stripped down to the essence of his practice. Created over three years, the series reflects the artist's long-standing interest in salvaging forgotten remnants of the past and elevating them by repurposing them with a futuristic aesthetic. For years, the artist has obsessively collected, archived, and repurposed pressboard, a heavy, multi-ply paper stock used in packaging and office supplies from the 1950s to the 1980s. Previously, pressboard has appeared as the hidden architecture in Kofie's collages, subsequently covered with layers of paint, ink, and spray. In ROTATIONSHIPS, the only "paint" used is the colored pressboard itself; brushes only apply adhesive and varnish.

Even when painting, Kofie describes his process as one of building. In this series, construction is centered on a series of "rotationships," a word the artist coined to describe his ongoing relationship with circular forms. The circular forms represent the feminine ideal in his work, taming and controlling more hard-edged, angular elements. Here, circles are everything—centered, interlinked, stretched into oblongs, layered transparencies—all in different explorations of union.

Kofie's respect for pressboard stems from its durability, malleability, and shelf appeal: it can be scored, folded, coated, screen-printed, embossed, while retaining its structural integrity. Steno notepads, file folders, album covers, industrial packaging—pressboard often packages old technologies from a predigital, bygone era. The artist has sourced this modest refuse of the past at estate sales in the greater Los Angeles area (as well as flea markets all over the world over), from the homes, workshops, and garages of the elderly, who saved everything, when things were made to last.

A self-defined "compartamentalizer," Kofie breaks his work process into phases. In his studio, the pressboard has been meticulously inventoried—archived by color palette, thickness, and category in vintage industrial file cabinets, "sometimes for years, sometimes for that day," until they make their way into an assemblage. The blank file folders he screen-prints himself, making his own packaging by silk-screening salvaged security envelope patterns and other half tones onto the pressboard. Using found metal circles (also sourced at estate sales) as templates and found metal objects as weights, the only contemporary material is the wood panel support.

Production is a meditative, intuitive, embodied process. Beginning with a simple pencil sketch on wood panel—a few circles, a few crosscutting lines—Kofie then lets the given selection of pressboard guide the work, manually cutting the pieces, one by one, fitting them into a section, letting each determine the one to follow. The results are reminiscent of mandalas in the way they focus our attention, calm our spirit, and center us in an abstract space, but here these are built out of the industrial arts of our recent, collective past. Even as we enjoy the perfect symmetries, we try to read the images, to decipher the past lives of what we see. In this way, ROTATIONSHIPS is the ultimate manifestation of Kofie's career-long commitment to salvaging the past and building a future.
Works