+

Series
The List
Hear about upcoming shows. We aim not to send more than one update per week.
About
Connect
Pride Pop-Up Show
Friday June 2nd, 6-9 pm
On view thru June 17th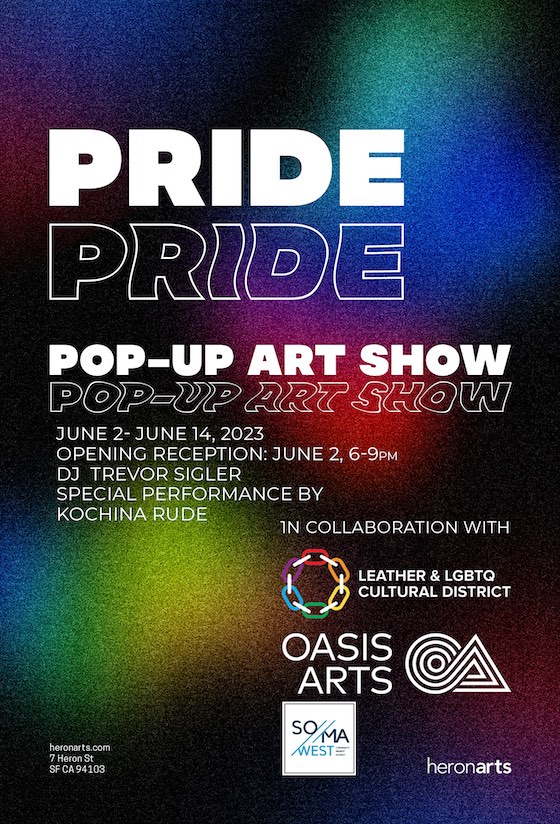 Heron Arts, in collaboration with The LEATHER & LGBTQ Cultural District and Oasis Arts is pleased to announce the group exhibition Pride Pop-Up Show. The exhibition will be a salon style show featuring artwork by local LGBTQ+ artists and will be both a celebration of the beginning of Pride month, as well as a celebration of the cultural heritage of the LGBTQ+ community in the SoMa neighborhood where Heron Arts is located. The exhibition will be on view at Heron Arts from June 2nd until June 14th, 2023. The opening reception for Pride Pop-Up Show will feature drag performances presented by Oasis Arts with a DJ set by Trevor Sigler and is on Friday June 2nd, 2023, from 6-9 pm and is free and open to the public.

Participating Artists

Adam Caldwell, Aleckzander Anthony, Alex Prestia, Diego Gomez, Dorian Katz, Elliott C Nathan, Favianna Rodriguez, Gloria Polo, J Manuel Carmona, Johnny Botts, Jonesy, Josh Katz, Justin Hall, Kegan Marling, Luke Andahazy, Phil Chanin (Glitter Moonbeam), Serge Gay Jr., and Tanya Wischerath.

The LEATHER & LGBTQ Cultural District

The LEATHER & LGBTQ Cultural District's vision is to rejoice, commemorate, and protect the contributions of our predecessors, contemporaries, and successors rooted in the LEATHER & LGBTQ Cultural District and its diverse and marginalized peoples. United, we preserve, enhance, and advocate for the continuity and vitality of the Kinky and Queer communities of San Francisco's LEATHER & LGBTQ Cultural District.

Oasis Arts

Oasis Arts supports artists through collaboration, development, and mentorship by providing tools, venue space, resources and equipment to enable LGBTQ and BIPOC artists to create innovative and diverse art. Partnering with Oasis Nightclub and leveraging the seven year history of the queer arts scene. Oasis Arts will elevate diversity and bring vibrant art to the community by embracing participation across generations, cultural backgrounds, and individual expressions. Oasis Arts is committed to uplifting the voices of the historically suppressed, disenfranchised, and forgotten LGBTQ and BIPOC community by providing a platform to present artistic expression. Oasis Arts, Inc. is a non-profit organization based in San Francisco, CA.