+

Series
The List
Hear about upcoming shows. We aim not to send more than one update per week.
About
Connect
Together
Saturday April 15th, 3-8pm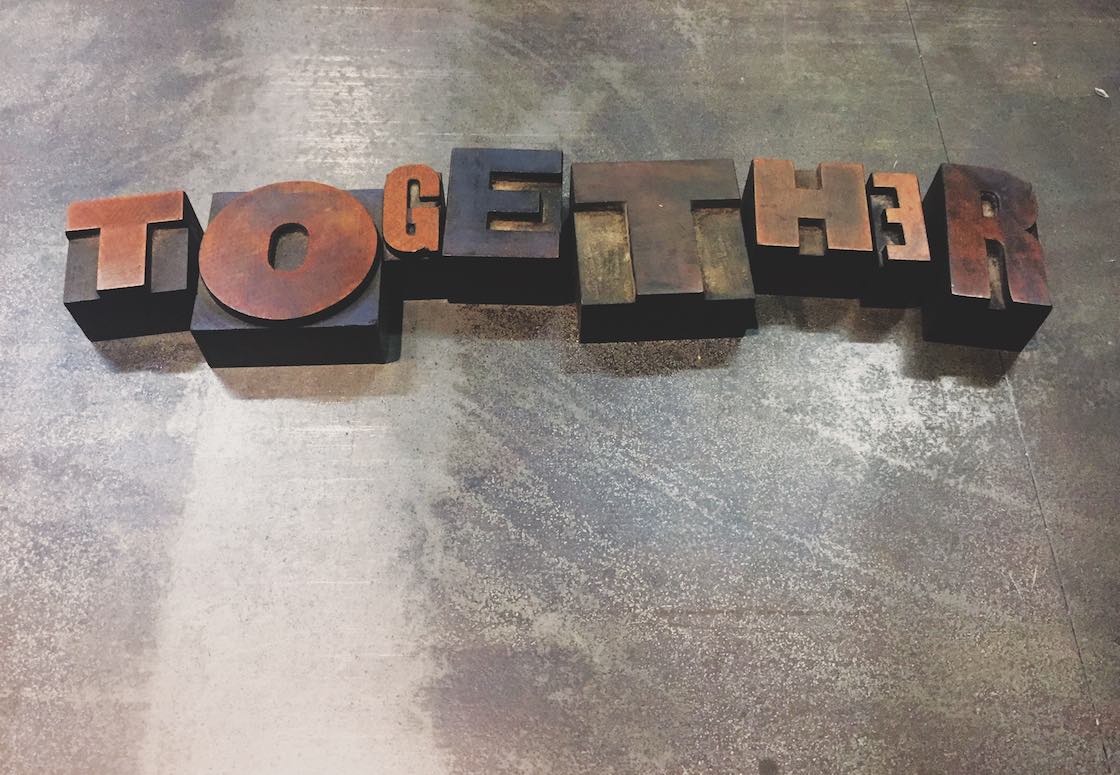 Heron Arts is excited to announce its upcoming group exhibition comprised of artists who work in the Treat Ave studios in San Francisco's Mission district. The history of the Heinzer building laid the groundwork for its becoming a vessel of creativity and expression, its primary use today. The artists who fill the building vary in medium - from printmaking to painting, software development to textiles, and even a music label. This show will feature all new works from current studio mates. The opening exhibition will have live performances from local bands Cool Ghouls, The She's, Joseph Childress Band, Diko and Grace Sings Sludge. In addition, there will be live printing by studio mate and master printer Paul Mullowney, and a photobooth by Glass Coat Photo Booth. The opening reception is on Saturday, April 15th from 3-8pm and is free and open to the public. The exhibition will be open until April 28th, by appointment only.

The Treat studio space, also known as the Heinzer building, was purchased by Ernest Day Heinzer in 1952 for $4,000. The building was the first tilt-up building west of the Mississippi and was originally occupied by a wholesale baby furniture company. At the time Heinzer purchased the building a train ran through the backyard, receiving boxcars from manufacturers out of Massachusetts, which saved the company money on shipping. Ten years ago the company went out of business and the warehouse was converted into studios for artists and small businesses. Heinzer felt that it made sense to rent out the space, he likes helping people and has an interest in the arts. The group of artists and small businesses that currently occupy the building are a mix of individuals, inspired by one another, coming together in a loosely structured environment as friends and supporters of the arts.

Daniel Chen has been at the Heinzer building for two years. He was born in San Francisco in the 80's and split his childhood between the Bay Area and the Taiwanese port city of Kaohsiung, never fully assimilating to either culture. Going against the rest of his family's vocational normas, Chen pursued a career in the arts after childhood years spent watching his grandfather paint. The artist's work gives insight into his outlier history, showing astute awareness to his surroundings while maintaining a rebellious nature. His style mashes together classical, abstract, contemporary, and pop art techniques. Chen attended the Academy of Arts, graduating with a BFA in painting and later received his MFA at California College of the Arts.

Adam Feibelman (Adam5100) has been at the Heinzer building for two years and has lived and worked in the Bay Area for 16 years. Born in Albuquerque, New Mexico, Feibelman is best known for his stencil enamel paintings and cut paper works. His use of multiple hand cut layers reflects the fractures and perspectives of everyday urban life, while the use of enamel paint sheds light on his characters, buildings and surroundings. His stencils and painting embody the fragility and mundanity of human life. Feibelman attended California College of Arts and Crafts and graduated with distinction in 2001 with a double major in Printmaking and Illustration. The artist earned the Yozo Hamaguchi award for exceptional achievement in Printmaking.

Chad Hasegawa has been at the Heinzer building for four years. Hasegawa was born and raised in Honolulu, Hawai'i and moved to San Francisco in 2000. Hasegawa paints portraits of those who inspire him using large flat brushes and cheap house paint. The artist credits his resourcefulness as enabling his creative freedom. His abstract paintings use vivacious layers, rich tones and shades, bold in your face colors. Hasegawa received his BFA in advertising from the Academy of Art University and worked for top agencies, including Venables Bell & Partners and Goodby Silverstein & Partners. After leaving advertising, he concentrated on street murals and canvases for gallery exhibitions. Hasegawa has completed murals throughout San Francisco, as well as in Venice, CA, Honolulu, HI, Wynwood, FL, and Basel, Switzerland. The artist has been awarded residencies at Recology and 509 Cultural Center.

Mansur Nurullah is a textile artist that has worked in the Heinzer building for nine years. Nurullah was born on the southside of Chicago in 1972. His works are topographic landscapes, offering different interpretations of struggles and experiences he has endured. The landscapes bulge with warm safe havens and zones of refuge that have a depth of color and comforting aroma. The core of Nurullah's work is the materials that develop his process. He uses found materials, many of which are acquired from his walks throughout the city: fabric from his homeland, discarded couches, and donations from many of San Francisco's small businesses. In 1997, Nurullah received a BFA in Photography and Painting from the University of New Mexico, Albuquerque. In 2014 he received a Masters in Counseling with MFT option at CSU- East Bay. He is currently finishing his Post Masters PPS Credential Program at San Francisco State University.

Graham Loft is the owner of Glass Coat Photo Booth. He has been at the Heinzer building since 2010. Loft moved to San Francisco in 2000 from Atlanta, Georgia. Loft was born in 1980 in Memphis, Tennessee. With creative roots in skateboarding, Graham later worked in commercial photography before be finally built his first photo booth. Also an experienced mechanic, each booth is built by hand considering every detail.

Paul Mullowney is a master printer who has been at the Heinzer building for five years. Mullowney was born in Makato, Minnesota in 1960. His studio practice incorporates techniques from both Eastern and Western cultures, printing large-scale woodcuts and photogravure etchings on handmade Asian paper. His imagery is based on Japanese traditions of Noh and Kabuki legends, while taking inspirations from Buddhism and Shinto, and tattooing to Ukiyo-e — a strong nod to traditional folk and craft. The artist uses many layers of paper and produces action-based installations directly on gallery walls using wheat paste. His work is heavily influenced by his time spent in Nara, Japan where he lived and studied printmaking for ten years in a 17th century Zen temple, collaborating with a local scroll mounter. Mullowney received his training at San Francisco's Crown Point Press where he became master printer in the early nineties. The artist has taught numerous workshops around the country and in Japan. He has been visiting faculty at Portland's Pacific Northwest College of Art and the San Francisco Art Institute.

Erik Otto has been in the Heinzer building for seven years. Otto was born in San Jose, California in 1980. Otto is a multi-disciplinary artist who employs a variety of materials and found objects. The artist's abstract paintings, sculptures and installations capture moments of tranquility within the chaos and change of urban life. His abstract paintings often utilize subtle cool colors, and his sculptures and installations are made of found materials, often incorporating bold neon light. Otto has exhibited globally with major museums and galleries in San Francisco, New York City, Los Angeles, Washington DC, Mexico City, and Canada. Otto has also produced private commission work for the Grand Hyatt, Microsoft, Red Bull, Absolut, and Urban Outfitters. Otto graduated from San Jose State in 2005 with a BFA in Illustration.

Jon Stitch in an illustrator that has joined the Heinzer building in this past year. He was born in 1981 in La Canada, part of the greater Los Angeles county. He has been drawing from a young age and has fond memories of doodling on restaurant placemats, or being caught by teachers drawing inappropriate everyday life happenings. His work continues in this vein, balancing a childish yet serious approach. He has an impressive list of clients including Bloomberg Businessweek, Chronicle Books, Pandora Radio, the Washington Post, Esquire, MTV, Smithsonian Magazine, The New York Observer, Adult Swim, Charles Schwab, Variety, The Globe and Mail, Buzzfeed, Sports Illustrated Kids, Seattle Weekly, Phoenix New Times, Texas Monthly, The San Francisco Giants, Vibe, Philadelphia Magazine, Atlanta Magazine, The San Francisco Chronicle, General Mills, and The Bold Italic.

Christine Wolheim is a stylist and artist who has been at the Heinzer building for five years. She was born in Hollywood, California in 1965. From the age of five, Wolheim wanted to be an artist. The culinary world was her first introduction, in which she traveled all over the world cooking and creating visual and delicious food. Since then, she has returned to San Francisco to build her studio and commercial work. Her artwork is a passionate account of her interests in both the mundane and the beauty of art history. Although primarily a painter, she uses a variety of media: photography, printmaking, collage and assemblage. Wolheim received her BFA in painting from the San Francisco Art Institute in 2001, where she was the recipient of numerous awards.

Arvel Hernandez brought his record label, Empty Cellar Records, to the Heinzer Building two years ago - when he picked up the lease belonging to Castle Face records. He currently cohabitates his space with close label friends, Melters Records. Empty Cellar has been in existence since 2009-ish. They release music on vinyl, cassette and other formats for many talented musicians in the Bay Area and beyond. For this exhibition, Hernandez will curate the live music throughout the night featuring a Bay-Area-only / all-Empty-Cellar bill. Empty Cellar and Melters Records will also offer vinyl, cassettes, and limited edition merchandise for sale.

Ferran Torras is a multidisciplinary artist who has been at the Heinzer building for six months. Born in Barcelona in 1981, Torras found his way to San Francisco in 2012. He is a visual designer and illustrator who uses projection and mixed media, though his preferred method is acrylic and pen. Inspired by Cy Twombly and Tapies, Torras creates as a means to communicate and interact with observers. He studied graphic design and illustration.

Casey Jones was born in Olympia, WA in 1986. Jones has been at the Heinzer building since August of 2016. Jones has lived in the Bay Area for nine years and been a simple grocer seven. Jones works at the studio daily and says a "natural boredom" moved him to create art. Jones says anything has the ability to inspire him and his process is not fully understood by him. He says "he tries to generate ideas with concept patterns." He will be exhibiting paintings.

Matthew Laurence Gottwig was born in Olympia, Washington in 1989. Gottwig has been at the Heinzer building since August of 2016 and shares a space with Casey Jones. Gottwig specializes in photography and printmaking. Gottwig is inspired by basketball and prefers to work at night while listening to Delilah on 98.1 FM.

Jesse Patel is a software developer by trade who has held his business in a remodeled Airstream out the back of the Heinzer Building for two years. Jesse was born in Great Barrington, Massachusetts in 1980. Jesse aspires to become a great mad scientist, and says that he has not found a better place for such work than the Heinzer building. "It is dark, musty and full of creative energy. I love coming here to work on my little projects and will continue to do so until one of them takes on a life of its own and turns against me, forcing me to flee." This is precisely why Patel fell in love with the Heinzer building: a space full of mad scientists working on their crazy dreams, together.