+

Series
The List
Hear about upcoming shows. We never send more than one update per week.
About
Connect
discrete figures
Rhizomatiks Research x ELEVENPLAY
May 17-18th, 5pm / 8pm
Gray Area Theater, 2665 Mission St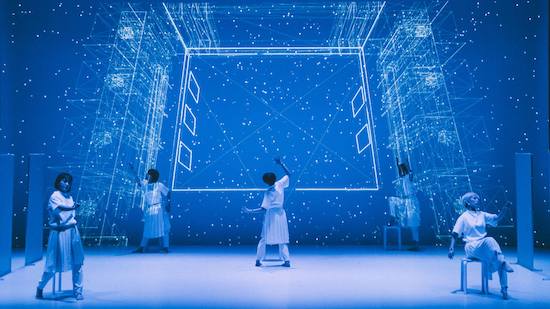 Following last year's sold out performances at Gray Area, 'discrete figures 2019' returns to San Francisco to present this expansive, dance technology performance by artist Daito Manabe's Rhizomatiks Research and choreographer MIKIKO's ELEVENPLAY, in collaboration with artist Kyle McDonald.

Rhizomatiks Research and ELEVENPLAY have garnered an international following for their many groundbreaking collaborations to date. Melding a commitment to conceptual innovation with a high level of technical refinement, they have unlocked unexplored possibilities in dance as a performing art, approached from the tandem perspective of installation and media art. 'discrete figures' represents the fruits of their latest collaboration in the form of a dance performance conceived jointly with U.S.-based media artist and researcher Kyle McDonald.

'discrete figures' unites the performing arts and mathematics in a dramatic exploration of the relationship between the human body and computer generated movement (simulated bodies) born from mathematical analysis. As an additional layer of complexity, the performance piece utilizes drones, A.I., and machine learning in the quest for a new palette of movement to foster undiscovered modes of expressive dance that transcend the limits of conventional human subjectivity and emotional expression.

An expansive multidisciplinary collaboration between mathematicians, dancers, media artists, composers, and engineers, this complex experimental performance is truly the first of its kind. Come reimagine the boundary between real and imaginary, between object and movement.