+

Series
The List
Hear about upcoming shows. We aim not to send more than one update per week.
About
Connect
IMAGO
Saturday November 18th, 6-9pm
Artist talk Thursday December 14th 5-8pm
By appointment thru December 16th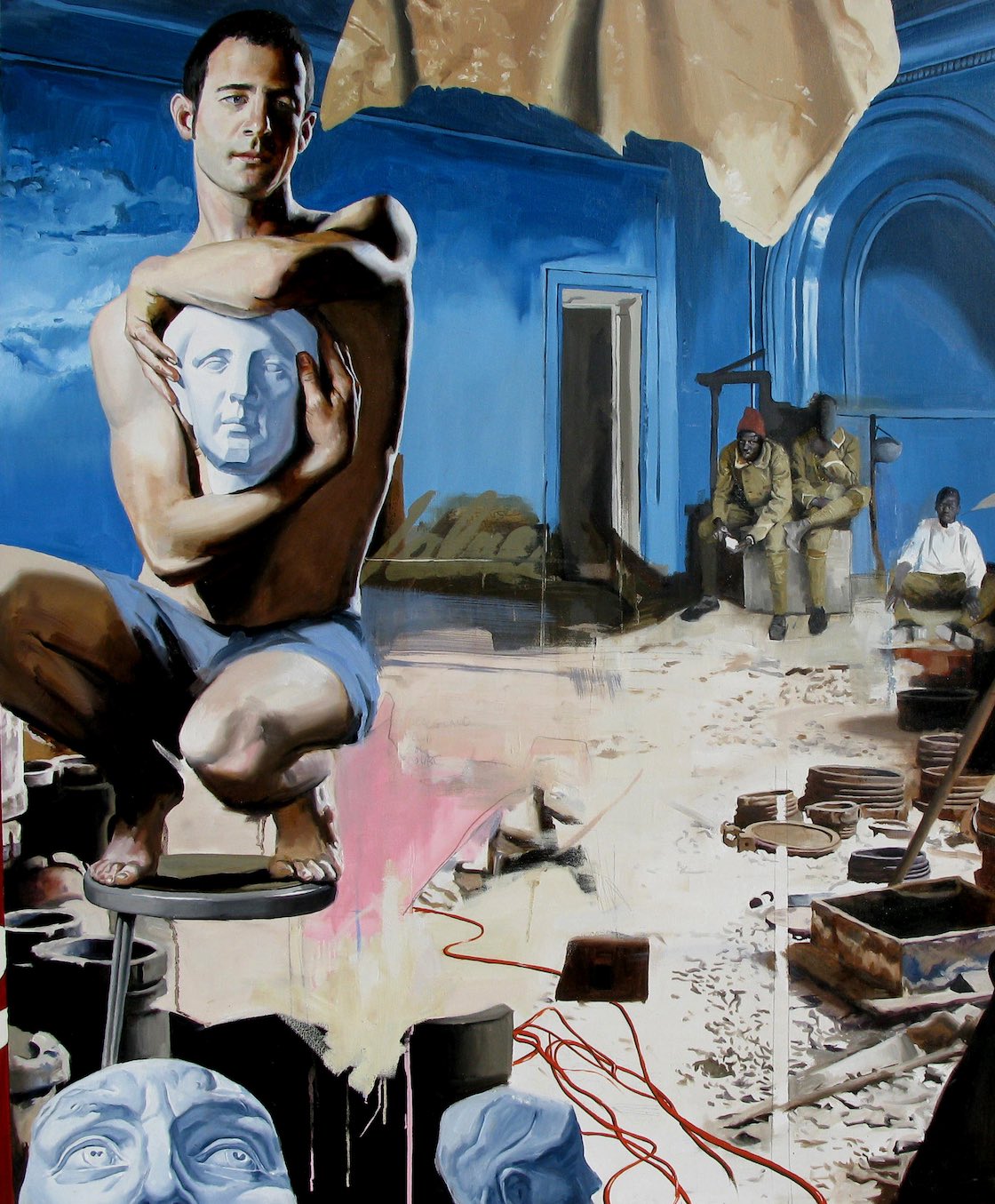 Heron Arts is pleased to announce a new solo exhibition by Adam Caldwell, a queer conceptual painter based in San Francisco. The opening reception for IMAGO is Saturday, November 18th, 2023 from 6-9pm, where the artist will be in attendance. The exhibition is free and open to the public until December 16th by appointment only.

Adam Caldwell creates mixed media paintings with depictions of people engaging in moments past and present. Caldwell obstructs the views of conventional portraiture and scenery with surreal overlapping painted montages, often including queer icons and gender pioneers. The artist pairs disintegrating quotations within their work, highlighting concerns regarding health and politics in the context of mainstream media as well as the environment. The show IMAGO is defined by Caldwell; 1. An insect in its final, adult, sexually mature, and typically winged state. 2. An idealized mental image of another person or one's self. "I want the viewer to be engaged by the words, to see the paintings as responses, and as further questions."

IMAGO comprises 20 mixed media paintings, intended to engage the viewer through immediate beauty, with visual narratives designed to encourage a quest for deeper meaning. Caldwell steps away from traditional oil painting for this work, combining his control in rendering with the freedom intrinsic to multi-media compositions. Caldwell originally adopted this style as an illustration student at the California College of the Arts.

In the center of the gallery, the show will feature an enclosed darkened room installation. The viewer is invited to enter the space surrounded by various suspended personal sketchbooks belonging to the artist, each eerily lit by a single light source, giving a sense of traction on the road that led to generating the IMAGO series. The installation's primary objective is to encapsulate a safe and quiet space, fit for exploration of inner thoughts and associations to the underlying themes presented in the work. The ambiance evokes a nostalgic sensation, like that of reading by flashlight under the covers.

The wide-ranging subjects present in this artwork attest to a variety of interests and influences. Caldwell admires the figurative work of Odd Nerdrum, Jenny Saville, Francis Bacon, Lucien Freud and Antonio Lopez Garcia, and has a deep love of film, music, and comics, all of which helped shape his identity. Another driving force has been Caldwell's beloved grandfather, who committed his life to representing marginalized members of society. "I am deeply concerned about the world around me, and my work reflects my reactions to social issues…" states Caldwell. Through this work, he presents an abstract examination of our evolution as people, while paying homage to our predecessors and the never-ending human journey.
Works