+

Series
The List
Hear about upcoming shows. We aim not to send more than one update per week.
About
Connect
Invest In Art
Dec 4th-9th
CONTEXT Art Miami Booth C221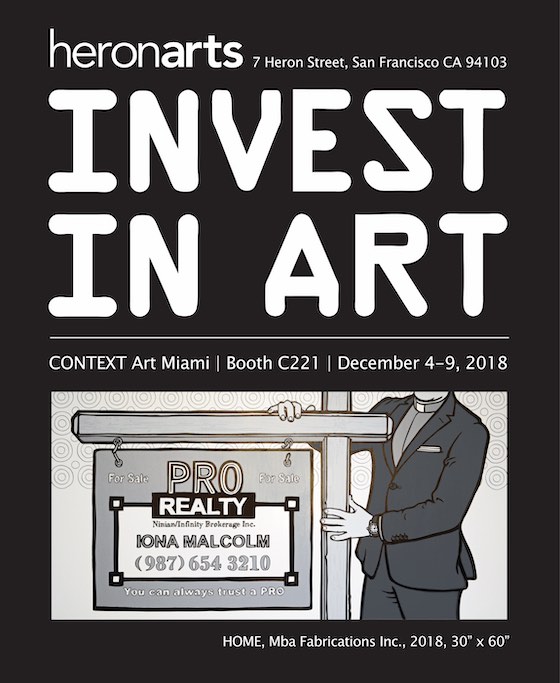 Following on last year's presentation of of "Harmony @ Home," Mba Fabrications Inc. CEO Don Ian McCaw returns to CONTEXT Art Miami to present "Invest In Art."

McCaw is engaged in a long-term project named after a fictional company he created in 2011 called Mba Fabrications Inc. Every new chapter presents a fictional business initiative that is at once clearly ridiculous and curiously plausible. In follow-up to HARMONY@HOME in 2017, McCaw will unveil an all-new piece called INVEST IN ART. The title refers to the ambiguities of connection that individuals feel toward the art they own: they are forever both emotionally and financially invested. The eternal tension between the spiritual and the material animates this piece.

The fictional pretext for this performance/installation is the announcement that in March 2019 Mba Fabrications Inc. will be listing shares on the American Stock Exchange (which, of course, does not exist). This will make it the world's first publicly traded art-making company.

For visitors who choose to engage, McCaw will share the story of how he decided to take his company public in large part due to the success of the book 'PALEO INVESTING' by Dr. Dominic Nadali (as with all the characters in the Mba Fabrications story, his name is made up from letters in the name Donald Ian McCaw). Dr. Nadali's thesis is that individuals should invest only in businesses aligned with the priorities of prehistoric humans. His approach is controversial, to be sure, but it has been undeniably successful, attracting legions of followers. While they have found it relatively easy to invest in industries with ancient roots ranging from agriculture to weapons, there has not been even a single art-making company for them to put their money into. Until now.

The booth will be visually striking, with a dramatic black and white graphic theme. There will be no color present at all, including the art, the printed material, the fixturing, and even the dress of those staffing the booth. The walls will be painted black. On them will be hung seven enigmatic paintings, ostensibly representing the Mba Fabrications product but also reflecting the underlying artistic themes of the piece. These paintings will be for sale. There will also be a dynamic, attention-grabbing video presentation, tracing the story of Dr. Dominic Nadali and his discovery of the principles behind PALEO INVESTING. Shrink-wrapped copies of the book will be available for purchase as multiples. The fixtures of the installation, from the frames to the furniture to the video screen enclosure, will be custom designed in black acrylic by Donald Ian McCaw and constructed by Kal Mansur Studios.