+

Series
The List
Hear about upcoming shows. We aim not to send more than one update per week.
About
Connect
Language Of Form
Saturday August 5th, 5-9pm
Closing reception August 31st 6-8pm
By appointment thru September 2nd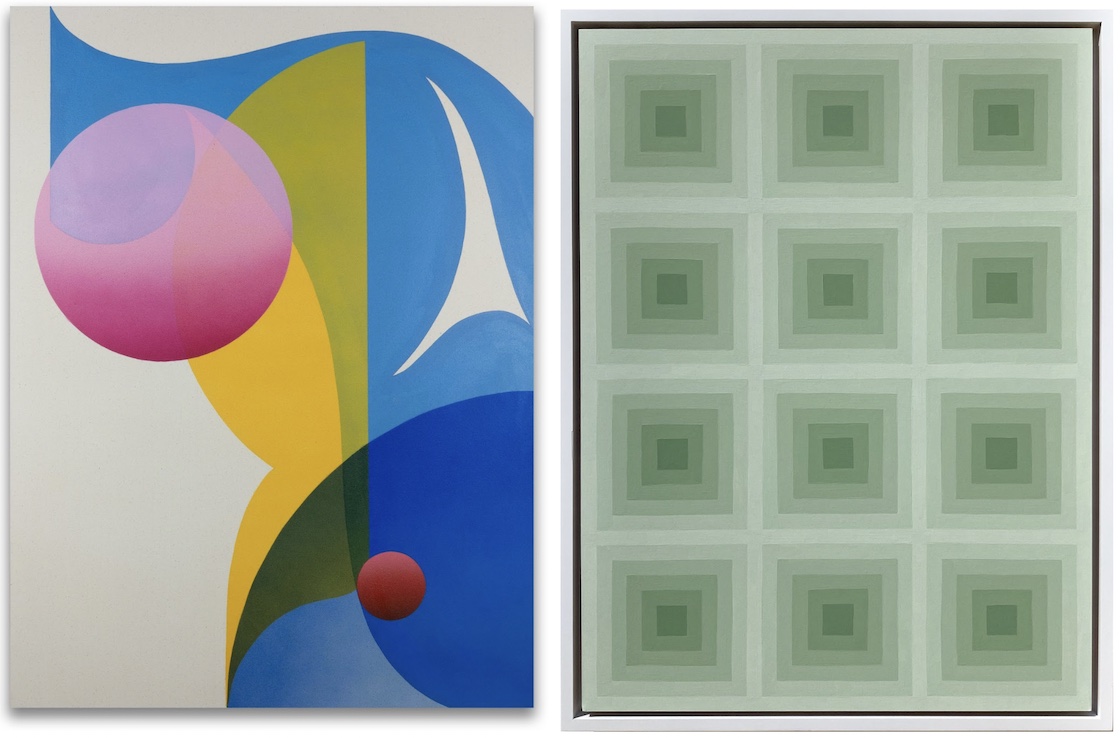 Heron Arts is pleased to announce LANGUAGE OF FORM, a new exhibition featuring Haoyun Erin Zhao and Sofia Shu, two multidisciplinary artists based in San Francisco. The opening reception for LANGUAGE OF FORM is Saturday, August 5th, 2023 from 5-9pm, where the artists will be in attendance. The exhibition is free and open to the public until September 2nd by appointment only.

Haoyun Erin Zhao is a Chinese American artist who wrangles various forms of media in vibrant jewel tone palettes of translucent, overlapping organic shapes with complementary, warm and cool color palettes that overwhelm the senses. Sofia Shu, originally from Siberia, uses the vast white space of paper, like a backdrop canvas made of snow, to explore spatial relations through painted hypnotic repetitive patterns that can quiet the mind with symmetry, balanced by soft earth tone shades. These two bodies of work, exhibited together for the first time, feature paintings on canvas and works on paper. LANGUAGE OF FORM is an amalgamation of two unique perspectives, each artist using her own approach to convey meaning, introspection, and visual journey into the unknown. These examples of visual information are intended to elevate abstract imagery into a form of visual language, one that may be subversive and subjective. With Zhao's dedication to color theory and swooping shapes interacting and teetering in space, and Sofia Shu's kinetic-like infinite geometric mazes, each artist is like a conductor, guiding a symphony to harmony, creating a visual language that is meditative and joyful.

In June, Zhao had the unique opportunity to complete some of the work to be featured in this show as a recipient of the Golden Foundation for the Arts artist in residence program in upstate New York. Zhao has been challenging herself in a 'return to form' through simplified media by revisiting two-dimensional interpretations of her visual language on large scale acrylic painted canvases with prismatic airbrush gradients. In the artist's recent series "Letter to the Unknown," Zhao explores her curiosity in an imagined conversation with her past or future selves. Using intuitive mark-making as a way to tap the subconscious, without premeditated composition, the spontaneity results in a boomerang effect of energy bouncing back through shape and color. Stepping out of her comfort zone of experimenting with new materials, Zhao's work aims to combine familiar shapes with rich colors that evoke emotion or sensations like synesthesia, to create something ambiguous that simultaneously evokes a sense of home or belonging.

Haoyun Erin Zhao's work calls to mind predecessors of color theory. Josef Albers emphasized that "color, as the most relative medium in art, has innumerable faces or appearances. To study them in their respective interaction, or in their independence, will enrich our 'seeing,' our world- and ourselves." While Johannes Itten, responsible for essential color wheels we rely on today, focused on seven fundamental categories of contrast: hue, light-dark, cold-warm, complementary, analogous, saturation, and extension. Zhao combines many of these elements, presenting the polarities and known effects of color interactions. Trompe l'oeil, or deceiving the eye, with the vibrations of juxtaposed complimentary colors of equal shades, provides possibilities for wide ranges of emotion and relation to the elements found in nature, wind, water, earth, and fire.

Sofia Shu was classically trained in art as a youth in Siberia until she was twenty years old. Shu originally studied architecture, which led her to a career in interior design, a practice that informs her work to this day. Shu describes her long nine-month winters as infinite space, finding magic in the contrast of the dark starry skies, alive and swirling beyond comprehension, yet static. The artist considers these early memories as a kind of origin story for her frozen symmetrical patterns, an unconscious reflection of snowflake structures under a microscope, rigid worlds of ice that encapsulated her environment. After moving to the United States, Shu found herself immersed in a prolific world of artists in New York City that lit a fire in her. Determined to alleviate the stress of a 9-5, she devised a plan to devote herself solely to her own art, which eventually took precedence over a successful interior design career. It is no accident that Shu's work is informed by a focus on Zen teachings, meditation, and Eastern philosophies. Shu believes the painter can be a conduit for higher consciousness, and exemplifies that in her paintings, which can be considered as an act of meditation, or a portal through which to contact the beyond. Like butterfly wings of symmetry, Shu's beautifully patterned designs take flight into parts of the mind that demand breadth and space, giving an overall calming effect. During the creative process, Shu enjoys studying esoteric history, astrology, plant medicine, singing bowls and uses meditative music to transport her into the places her work inhabits. Studying ancient symbols from cultures from around the world, sound frequencies, weaving and handmade crafts also inform her work. The pathways that wrap her compositions with infinite parallel and knotted lines may be viewed as a metaphor for orbital patterns found in the universe, biological connectivity, kinetic sculpture design, or a map to an ancient temple orientated to the rising and setting of the sun in the East and West. Subtle experimentation with muted monochromatic pastels ranges through shades of clay, water, and moss. The vibrational effects ripple while gazing deeper into the abyss, the viewer is refreshed through non-verbal visual communication.

With respect to Masaru Emoto's The Hidden Messages in Water, "Emoto demonstrates how water exposed to loving, benevolent, and compassionate human intention results in aesthetically pleasing physical molecular formations in the water, while water exposed to fearful and discordant human intentions results in disconnected, disfigured, and 'unpleasant' physical molecular formations." Considering Emoto's discoveries and what we know now about human consciousness and the necessity to prioritize mental health to promote well being, Sofia Shu and Haoyun Erin Zhao are intentionally creating a visual language as a vehicle for healing and exploration. LANGUAGE OF FORM is a gift for themselves and others, to help create a moment where time stands still, to see the world and feel uninhibited in that moment of bliss.

Works