+

Series
The List
Hear about upcoming shows. We aim not to send more than one update per week.
About
Connect
Press On
Saturday March 23rd, 6:30-9:30pm
Gallery Hours Saturday 11a-4p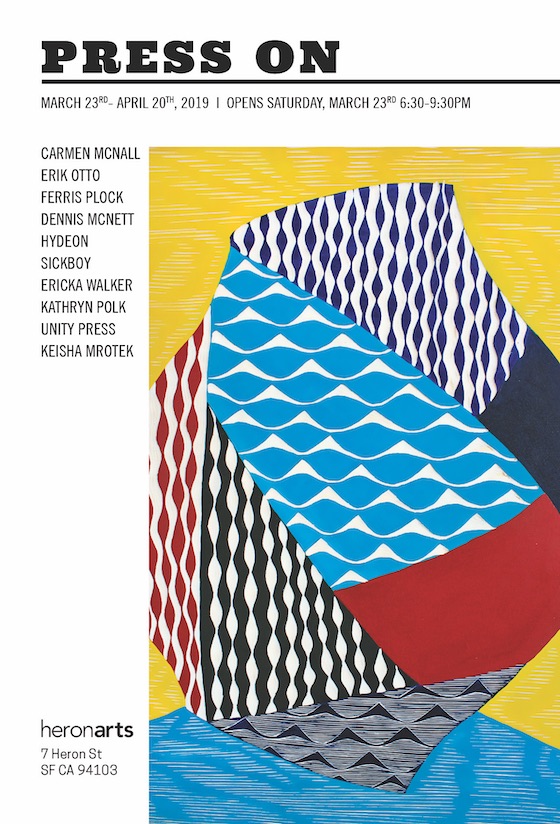 Heron Arts is pleased to present Press On, a group exhibition featuring Carmen McNall, Erik Otto, Ferris Plock, Dennis McNett, Ericka Walker, Kathryn Polk, Unity Press, Hydeon, Sickboy and Keisha Mrotek. Press On is curated by Tova Lobatz and opens on Saturday March 23rd, 2019 with an opening reception from 6:30-9:30 PM. The exhibition is free and open to the public. The show will be up until April 20th, open for viewing on Saturdays from 11am-4pm and on weekdays by appointment only.

Press On is a group show organized around the practice of printmaking. Many of the artists employ this method in their work and some use it solely. Some use it as a part of their process in creating original artworks. Some make editions, some exclusively make originals, and some explore printmaking in other arenas of their practice. The exhibition will delve into a few of the many ways in which printmaking methods manifest onto paper, wood, and mediums of alternate natures. The show will present a mix of print editions with various methods used, original paintings, as well as screen printed zines.

Press On will ignite the viewer's curiosity around printmaking and aims to educate the audience about the variety of ways printmaking can be used. Many of the artists chosen are very experienced printmakers, while some use it as a method to release affordable versions of their original paintings. The viewer will be asked to look at the different ways this ancient method is employed by contemporary artists.
Works