+

Series
The List
Hear about upcoming shows. We aim not to send more than one update per week.
About
Connect
The Love Eater
Saturday September 9th, 6-9pm
Open Thursday October 5th 6-9pm
By appointment thru October 7th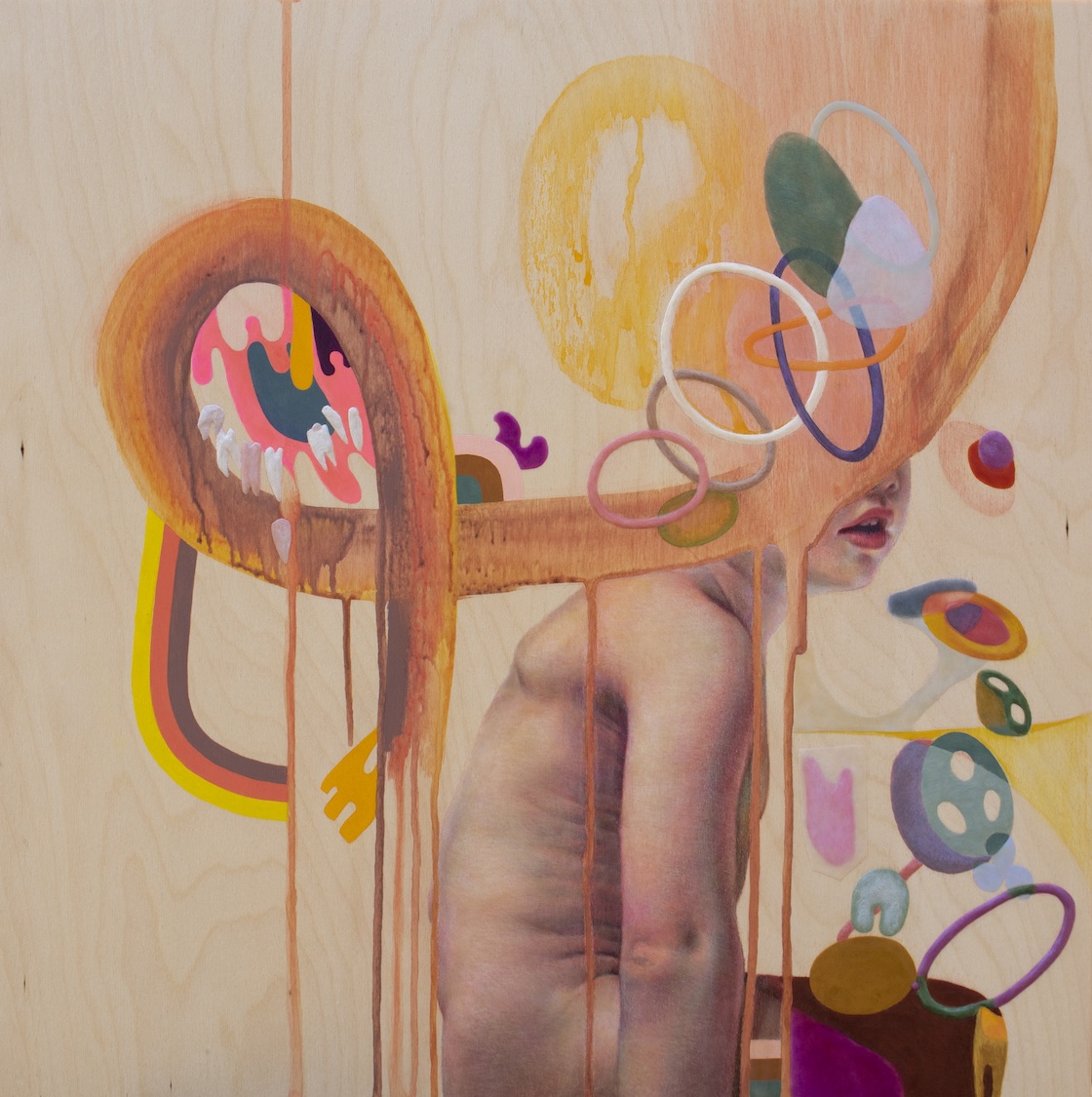 Heron Arts is pleased to announce a new solo exhibition by JP Morrison Lans, a mixed media encaustic artist from Tulsa, Oklahoma. The opening reception for The Love Eater is Saturday, September 9th, 2023 from 6-9pm, where the artist will be in attendance. The exhibition is free and open to the public until October 7th by appointment only.


JP Morrison Lans creates enigmatic paintings on wood panels and drawings on paper with unfurling symbolism. The artist explores womanhood via hyperreal faces and body parts in precarious compositions. Morrison Lans manipulates the surfaces of her paintings on wood and paper with textures of gouache, colored pencil, oil, and ink, often accompanied by encaustic embellishments made of beeswax. She simultaneously applies layers of figural subjects, both relatable and open to interpretation, portraying realistic teetering objects engulfed in fantastical abstract elements and saturated colors. She interprets skin with glowing translucency. It is as if the viewer can see the vascular system, pulsing with life. The Love Eater, a 28 piece series, is a glimpse into one woman's introspection. Defining her role as mother, wife, daughter, and artist, she sets out boundaries to define what is sacred through artistic creation.

The Love Eater concept derived from a long plane ride to visit family in Australia with her husband and 6 year old son. Captured in a lucid state somewhere between boredom and dreamland, she envisioned a forward facing entity with hands pushing things into faces and mouths, like insatiable orifices. Morrison Lans began conjuring ways to portray this sensation as a pertinent impression of the human experience. For example, the dichotomy of early motherhood - overflowing with love and wholeness, while also feeling aimless and complacent. Confronting the complexity of a desire for personal space, while acknowledging that "her body was her child's habitat for years." The Love Eater embodies these feelings of knowing that time with a growing family is precious, whilst consciously sensing every moment of sacrifice. Morrison Lans finds solace in raising these ambiguous emotions to the surface in her work, posing taboo questions to the viewer, celebrating the vulnerability of mortality.

Morrison Lans was homeschooled by forward-thinking artistic parents for her entire young life in Oklahoma until college, where she received her BFA at the Kansas City Art Institute. There her unique perspective and alternative lifestyle blossomed through uninhibited creativity. Morrison Lans attributes the freedom to express herself to an intimate upbringing, one which cultivated the closeness of family, forming the lens through which she views everything in her life. She has always collected vintage and found objects, and specimens from nature that become a part of her studio shrines and muses for her work. Recently she has found inspiration in Alejandro Jodorowsky, the prolific drawings of William Kentridge, Tarot cards and other esoteric symbolism, and the irony of dark humor. JP Morrison Lans transmutes domestic diaristic narratives into visual storytelling, sharing tribulations and joys, presenting the abstract observations that occur throughout a woman's life.

Works