+

Series
The List
Hear about upcoming shows. We aim not to send more than one update per week.
About
Connect
Metamorphosis
Gallery Hours Tues + Thurs 3:30-7:30pm
Saturdays 11am-4pm until May 11th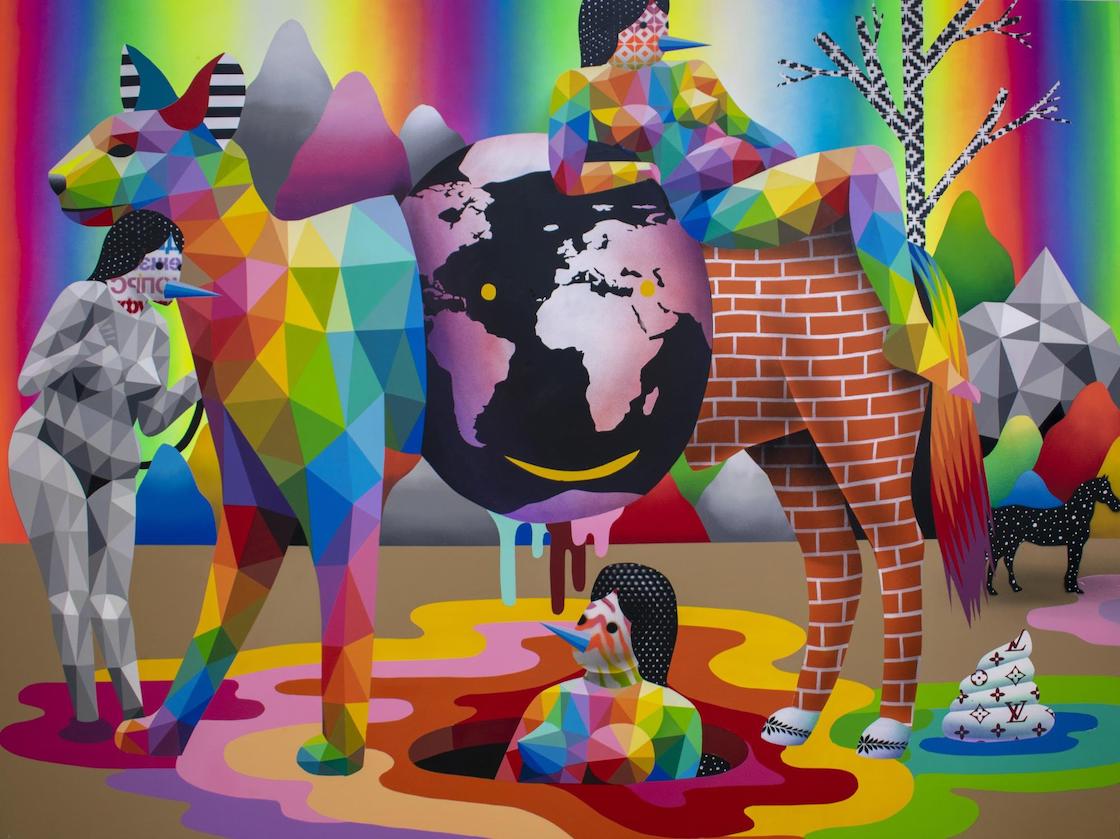 Heron Arts is pleased to announce Okuda San Miguel's first exhibition in San Francisco, a new and refreshing collection of work featuring collaborations with major international artists. The exhibition Metamorphosis by Okuda, curated by the Spanish artist, will be on view at Heron Arts until May 11, 2019. Visitors can enjoy a selection of Okuda's work, alongside pieces from a carefully chosen and surprising line-up of artists. The opening of Metamorphosis will be on Friday, April 26th, 2019 at 7pm and is free and open to the public. The gallery will be open Tuesdays and Thursdays from 3:30-7:30pm, and Saturdays from 11am-4pm until May 11th.

The concept of metamorphosis is a constant theme in Okuda San Miguel's career. The artist revisits this idea in many aspects of his work and everyday life. For six years, the artist has been organizing an annual exhibition in Madrid called Theriomorphism. A range of artists are asked to produce artworks based around the transformation of humans into animals. This theme will be present in the new works displayed in San Francisco by Okuda and the artists he has specifically chosen to produce work for the concept.

Okuda San Miguel has a rich history in the world of graffiti. He has painted hundreds of walls all over the world. Recalling a personal past when painting outside with friends was so easy has given the artist a certain nostalgia for simpler times, in which people were freer, with fewer commitments, making it much easier to produce a collaborative show at this scale. The artists included in Metamorphosis will be Nychos, Mario Martinez (Mars-1), AJ Fosik, Sergio García, Seth, Sopopomo, Christybomb and Bordalo II. Each artist will bring their own enthusiasm to this concept and to this major collaborative exhibition, surprising viewers with new formats and unseen work.

Alongside the collaborations done by the select group of artists and Okuda, Okuda San Miguel will also present a new collection of works featured in Metamorphosis. The artist has brought a unique iconographic language of geometric structures and multicolor patterns to streets, galleries and museums across the world have, making him one of Spain's most famous exports. Touching on issues such as diversity, the relationship between human beings and nature and breaking down barriers between cultures and religions, his art is made to provoke feeling: "the fundamental role of art has to be the transformation of the viewer." Okuda's work abounds in contradictions and metaphors related to themes such as existence, identity, the meaning of life and freedom that highlight the conflict between modernity and our roots, between nature and society, always leading viewers to their own reflections.

Works