+

Series
The List
Hear about upcoming shows. We aim not to send more than one update per week.
About
Connect
Press Release
Heron Arts Presents
Ass Kicking Contest
Wayne White and Woodrow White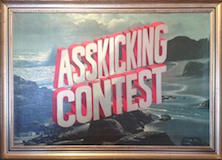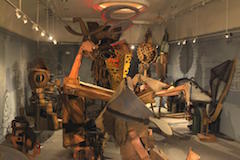 Opening Reception: Saturday, July 11, 2015 7-10pm
Exhibition Dates: July 11 - August 8, 2015 by Appointment Only
7 Heron Street, San Francisco, CA 94103
Heron Arts is pleased to present the inaugural exhibition and immersive experience from the compulsory creative, Wayne White. Exhibiting alongside Wayne will be his son, artist Woodrow White. For the first time ever, the artist brings his beloved aesthetic to San Francisco with an interactive installation, his signature word paintings, and works on paper. This is the first show of a quarterly series under the programming direction of curators Tova Lobatz and Noah Antieau. Lobatz and Antieau have teamed up with owner and early Facebook developer Mark Slee to provide a solution for San Francisco's increasingly threatened arts environment by inviting curators without spaces, artists, and organizations to pursue large-scale installations and experiences. Wayne White and Woodrow White will be in attendance during the opening reception at Heron Arts on Saturday July 11, 2015 from 7-10pm. The exhibition will be on display by appointment only until August 8, 2015 and is free and open to the public.
Fascination lay in the artist who obeyed alien impulses where the work appears to impose itself on the author; an external force wielding the artist like a marionette. — Carl Jung
Artists are all kinds of puppets themselves. — Wayne White
The focal point of Ass Kicking Contest will be White's 15-foot larger than life kinetic puppet sculptures, consuming the majority of Heron Arts' 3500 square foot space. The hand-cut sculptures crafted out of cardboard were engineered by the artist in an effort to reconnect with his early pedigree as a puppeteer and set designer for Pee-wee's Playhouse. White rarely has the opportunity to work this big. He enjoys the process due to both the physical aspect of working with materials larger than his body, as well as the opportunity it provides to transform his visions into two-story creations that turn people's heads. The puppets take center stage and will be animated by the artist throughout the evening.
Artists give people hope and magic tricks to escape. — Wayne White
Upon entering Heron Arts, viewers will no doubt call to mind Pee-wee's Playhouse and feel a sense of nostalgia for a show and an aesthetic that played an important role in so many childhoods. White's famous word paintings will be presented throughout the installation; the pieces ingeniously reflect the artist's sense of humor and his DIY mantra. With strong roots to Southern craft and his Americana sensibility, White's paintings and sculptures evidence his great skill as a craftsman and engineer. Wayne will create a beautiful yet familiar world for the citizens of San Francisco to explore. At Heron Arts the viewer will get a sense of where the artist embarks on this journey and where he ends, with the opportunity to see how Wayne's ideas develop from the sketch board into fully-formed sculpture.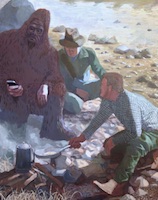 Woodrow White, 2014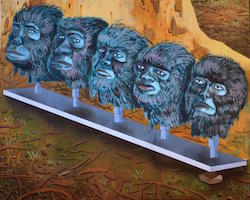 Woodrow White, 2015
In an interesting twist, Ass Kicking Contest will also present the work of Wayne White's son, Woodrow White. Woodrow paints familiar, everyday scenes and then places pop culture icons within these tableaus. His muted palette and reference to both pop culture and the everyday experience are subject threads that reflect some of the themes his father also explores. In exhibiting their work in tandem, Ass Kicking Contest looks at the impact that close relationships can have on the creative process, how ideas and worlds are reinterpreted through the eyes of both father and son.
Wayne White was born and raised in Chattanooga, Tennessee. An artist, art director, illustrator, and puppeteer, he moved to New York City in 1981 to pursue his art career and find the platform that would support his ambitions. After working in comics and puppeteering, Wayne White became a designer for the hit television show Pee-wee's Playhouse. He received three Emmys for his work on the show, moved to Los Angeles and continues to have success in the arts and entertainment industry. He has two children, both of whom are artists, and lives with his artist wife, Mimi Pond. Woodrow White, Wayne's son, was born in Los Angeles in 1992 and attended the California College of the Arts.
Just as remarkable is Wayne White's second act as a fine artist. His work has found a home in the public collections of New Museum of Contemporary Art, New York, NY; Detroit Institute of the Arts, Detroit, MI; Frederick R. Weissmans Art Foundation, Los Angeles, CA; Laguna Art Museum, Laguna Beach, CA. His work is highly collected by many, including The Simpsons creator Matt Groening, respected fashion designer Todd Oldham, renowned artist Mark Mothersbaugh, and countless others.
Heron Arts presents its first exhibition under the guidance of curators and Noah Antieau and Tova Lobatz who are pursuing ambitious programming that will encompass installations and experiential and interactive environments alongside traditional gallery exhibitions. Antieau has been involved in the arts for two decades. He founded Red Truck Gallery in New Orleans, LA, and annually curates a section of the LA Art Show, which he has dubbed Littletopia. Lobatz was formerly the youngest director of a prominent gallery in San Francisco and founded the public arts organization Art City. In the summer of 2014, she was the head curator of the highly successful public art advertising takeover Way Out West. The owner of Heron Arts, Mark Slee, was an early Facebook designer and patron of the arts. Collectively the three hope to provide San Francisco with a fresh outlook on contemporary beauty in the arts.
Interview Opportunities
With directors of Heron Arts, Noah Antieau and Tova Lobatz
With artists, Wayne White and Woodrow White
Gallery Hours
Open by appointment only
Contact Information
tova@heronarts.com
noah@heronarts.com