+

Series
The List
Hear about upcoming shows. We aim not to send more than one update per week.
About
Connect
Press Release
Perpetual Motion: Contemporary Interpretations of Fine Art Automata
Revival of historical genre sees first art exhibition in the United States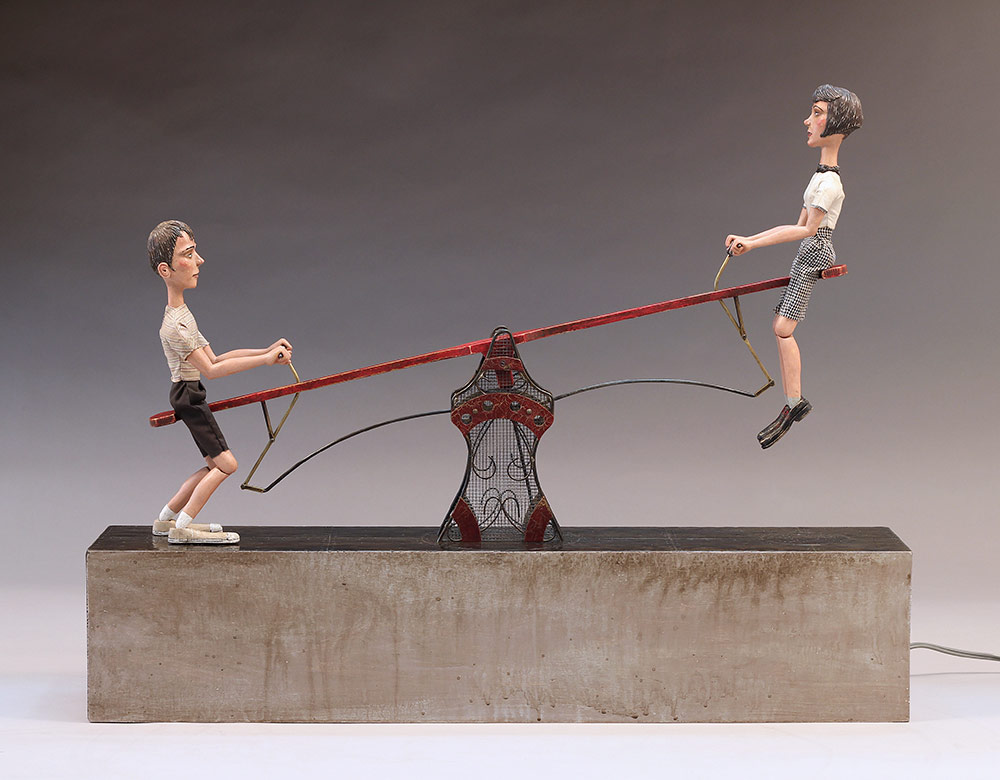 Tom Haney, Steadfast, mixed media kinetic sculpture, 2012, 30" x 21" x 6"

Opening Reception: April 16th, 6-9pm
April 16th - May 14th, 2016
7 Heron St, SF, CA 94103 — heronarts.com
February 26, 2016, San Francisco, CA — Heron Arts is pleased to present Perpetual Motion: Contemporary Interpretations of Fine Art Automata, a group show of eleven national and international contemporary artists who create figurative, kinetic sculptures in the pursuit of compelling narratives. This will be the first gallery exhibition of contemporary fine art automata in the United States. Curated by Heron Arts director Noah Antieau and Atlanta-based automata artist Tom Haney, exhibiting artists were chosen based on their craftsmanship and lifetime dedication to this artistic medium. Exhibiting artists include: David Archer (AUS), Chris Fitch (USA), Nemo Gould (USA), Tom Haney (USA), Thomas Kuntz (USA), Pat Keck (USA), Richard Landon (USA), Paul Spooner (UK), and husband and wife collaborators Dean Lucker and Ann Wood (USA). Perpetual Motion: Contemporary Interpretations of Fine Art Automata opens on April 16th, 2016 with a reception from 6-9pm and runs through May 14th, 2016.
Made from a multitude of materials and encompassing a wide set of skills from sculpture and painting to mechanics and engineering, the selected artists in Perpetual Motion: Contemporary Interpretations of Fine Art Automata create work that depicts human and animal figures in animated motion to achieve moving vignettes. This group of artists maintains an aesthetic of nostalgia while presenting contemporary subject matter.
Dating back to Hellenistic Greece, Automata — or simple machines designed to follow a set of predetermined instructions — have long captivated the human imagination. Experiencing a resurgence during the Renaissance and through the Industrial Revolution, automata were still largely playthings of the rich; elaborate adult toys displayed and enjoyed by merchants and royalty in private settings. With the European democratization of assets, the emergence of a working middle class and an expansion of leisure time, these precious objects eventually became available for public consumption through arcades and museums, in what scholars refer to as the Golden Age of Automata from 1848-1914.
While accounts of wealthy Americans traveling abroad and enjoying the automata attractions do exist, the artistry and craft remained with its European lineage and, eventually, its popularity as a European cultural pastime faded. Fortunately, this unique medium is experiencing a newfound audience in America. In addition to Perpetual Motion in May, New Jersey's Morris Museum will spearhead AutomataCon, a convention for automata enthusiasts, to be held in March. These two exhibitions mark the first time American automata creators will be shown together alongside their British, European and Australian counterparts.
About Tom Haney
Born in Cincinnati, Ohio in 1962, Tom Haney has always been fascinated by mechanical movement. Once, at the age of 2, he became separated from his family in a museum, transfixed by a mechanical diorama. In subsequent years, his fascination would manifest itself often — he regularly took apart household items, much to his parent's disapproval. He took art classes in high school and attended college studying Industrial Design. Before becoming a full-time artist in 2000, his professional work consisted of making props, models and miniatures for television commercials, still photography and motion pictures.
About Heron Arts
Heron Arts was founded in 2013 by Mark Slee, an active member of San Francisco's creative community, who has been organizing events since the mid-2000s. Prior to Heron Arts, Slee was a member of Facebook's product design and development team. He was joined in 2015 by directors Noah Antieau and Tova Lobatz, who are pursuing ambitious programming that will encompass installations and experiential interactive environments, alongside traditional gallery exhibitions.
Location: 7 Heron Street, San Francisco, CA 94103
Gallery Hours: Wednesday through Saturday 3-7pm and by appointment
For media inquiries, interview opportunities and images: danielle@frameworksf.com